Prince Harry and Meghan Markle's interview earlier this month was a trifecta testimony to the power of fairy tales, narrative, and enduring influence of television. Oprah Winfrey led the CBS-broadcast special that reached over 17 million US viewers-roughly 19% of the US population-and garnered seven million dollars. Because the programming was broadcast during America's evening, most of Britain was asleep and woke up to pre-formed opinions from across the pond.
The interview centered around how the couple felt voiceless before they stepped back as working royals. One of the most interesting anecdotes involved Meghan, a former actress who once portrayed Sleeping Beauty, likening herself to Ariel. While living at Nottingham Cottage on the grounds of Kensington Palace, she found Disney's The Little Mermaid on TV and was struck by the similarities. "She falls in love with a prince and because of that she has to lose her voice," the duchess stated. "But by the end she gets her voice back."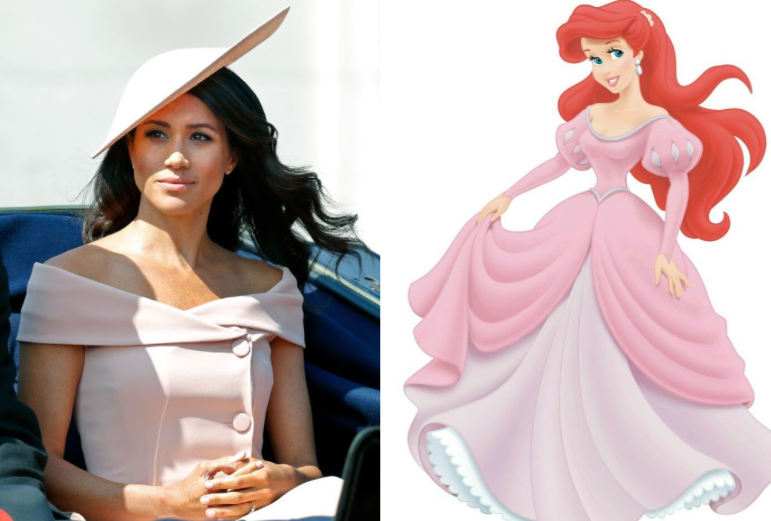 Like Ariel, Meghan now has both her prince and her voice, but it's not a perfect comparison. The little mermaid was already a princess of the sea. Life on land certainly would've been an adjustment, but she had the royalty part down.
Additionally, the 1989 Disney film happifies the Andersen text, where the mermaid scores neither a prince or a happy ending and is instead stuck with a life of public service. The voiceless mermaid is unable to advance their relationship and her prince falls for a human woman instead. The mermaid then casts herself off a ship, expecting to die (especially tragic given Meghan's confession that she suffered suicidal thoughts), but she's saved by air spirits, who recruit her to spend 300 years doing good deeds among mortals so she can win an immortal soul. Time gets taken off her sentence whenever she encounters a well-behaved child, but prolonged each time she meets a naughty one. A busy regimen of public service is expected of the royal family, who likewise live and die by the "good behavior" of common people, who need to like them to keep the family in power.
Meghan's Ariel comparison marks the first time a current royal has compared themselves to a fairy-tale heroine, though there's a long history of divorced royal brides and outsiders commenting on royal events drawing fairy-tale comparisons. This is also not the first time the Duchess of Sussex has drawn fairy-tale comparisons to her life.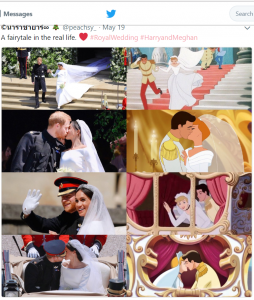 Before becoming royalty, Meghan used the non-princess fairy tale Goldilocks and the Three Bears to discuss the difficulties of finding roles as a biracial actress. "I wasn't black enough for the black roles and I wasn't white enough for the white ones, leaving me somewhere in the middle as the ethnic chameleon who couldn't book a job. This is precisely why Suits stole my heart. It's the Goldilocks of my acting career – where finally I was just right."
In an essay for Elle addressing gender equality and fame, she alluded to Cinderella stating, "With fame comes opportunity, but it also includes responsibility to advocate and share, to focus less on glass slippers and more on pushing through glass ceilings."
Prince Harry's mother and aunt both spoke negatively about how their real lives matched up with fairy-tale archetypes. Both of these women were divorced. Brides who stay in the royal family don't seem to have made anti-storybook statements. In a controversial clandestine interview, Diana told biographer Andrew Morton, "the public…wanted a fairy princess to come and touch them and everything will turn into gold and all their worries would be forgotten." The pressure to look like and act like what she terms a "fairy princess" put a lot of stress on her and contributed to her bulimia. Both Harry and Meghan delved into how the pressures of royal life took a toll on their emotional states.
Sarah Ferguson, ex-wife of Harry's uncle Prince Andrew, also interviewed with Oprah in 1996, who compared the duchess to Cinderella. Speaking in the second person, Sarah said, "You didn't marry the fairy tale, you married a man. You fell in love and married a man, and then you have to come to terms with the fairy tale. Now it's not a fairy tale, it's real life."
Harry and Meghan's decision to step back from their roles as working royals drew parallels with that of King Edward VIII, who elicited public ire when he abdicated in order to marry American Wallis Simpson. Lucy Baldwin, wife of the prime minister at the time, said of Wallis, "Mrs. Simpson has stolen the Fairy Prince." Wallis herself used a storybook comparison to assess the king's willingness to forego his responsibilities. In letters to her ex-husband Ernest, Wallis called the king Peter Pan, the boy who never had to grow up. Fairy tales are more familiar to Americans than the regimen of real royalty, so they get called in to explain royal situations. When Oprah asked Meghan how much she knew about the royal family beforehand, she replied, "As Americans…what do you know about the royals? It's what you read in fairy tales."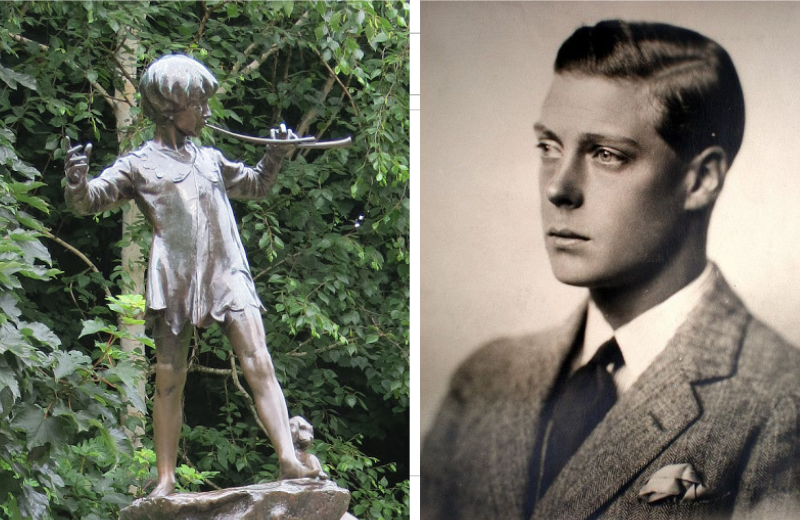 A frequent topic of the Oprah interview was race. The most talked-about moment of the interview was Meghan telling Oprah that Prince Harry dealt with "concerns and conversations" from a family member over their son's skin tone. The couple declined to name which family member this was, though Oprah later clarified that it was neither the Queen or Prince Philip. Newspapers sensationalized Meghan's origins pre-wedding, sometimes derisively and sometimes to applaud her for making it into the royal family, as if her real-life marriage were comparable to a television program adding a person of color to their character lineup. Samantha Markle, Meghan's estranged half-sister through their white father, complained about the fairy-tale lens her sister's race is viewed through. "The tabloids wanted to create this ghetto princess story, if you will, which is so far from reality…the African-American, rags-to-riches Cinderella."
The most prominent depiction of the royal family right now is not in real-life interviews, but Netflix's The Crown. Prince Harry has stated that he's less bothered by The Crown than he is by tabloids that craft narratives about his family, as The Crown does not purport to be news. This perception might be carefully worded, as the couple signed a multimillion dollar deal with Netflix. They can't speak poorly of their employer. 
The Crown never misses a chance to compare royals to fairy tales and fairy-taleizes its subjects. Fairy tales are known for their simple characterization. These real, complex people, who have given the public much characterization to go on through years of interviews and documentaries, are reduced to caricatures based of age, gender, and rank. Princess Anne, Harry's aunt, is depicted as jealous of Diana, as she's "the only other young female in the family." Prince Andrew gets jealous of his older brother Prince Charles. The Queen Mother, who died in 2002 at age 101, is the oldest character and thus gets utilized whenever the screenwriters want to make a statement about tradition.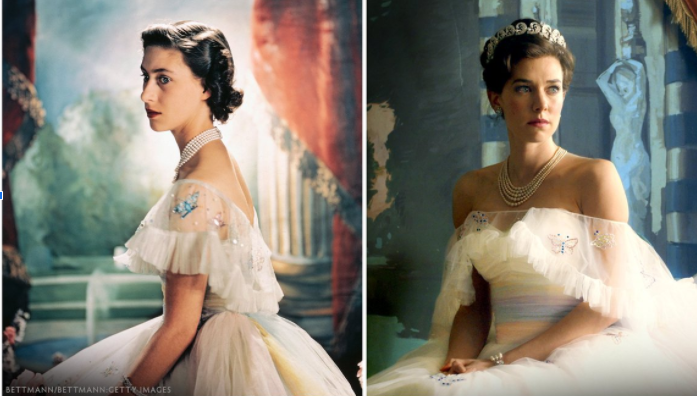 In season two, Princess Margaret, Prince Harry's great aunt, complains that her official birthday portrait looks too much like a fairy tale. A bystanding lady-in-waiting suggests that birthday portraits should show "complexity and reality." The Queen Mother responds, "No one wants complexity and reality from us. Do sit down. People have enough of that in their own lives. They want us to help them escape." Photographer Cecil Beaton then chimes in, telling Margaret that ordinary women spend their lives in sculleries (like Cinderella) and need royalty for the escapism. When a common woman sees Margaret's picture in a magazine, "For one glorious, transforming moment, she becomes a princess too. She is lifted out of her miserable, pitiful reality into a fantasy."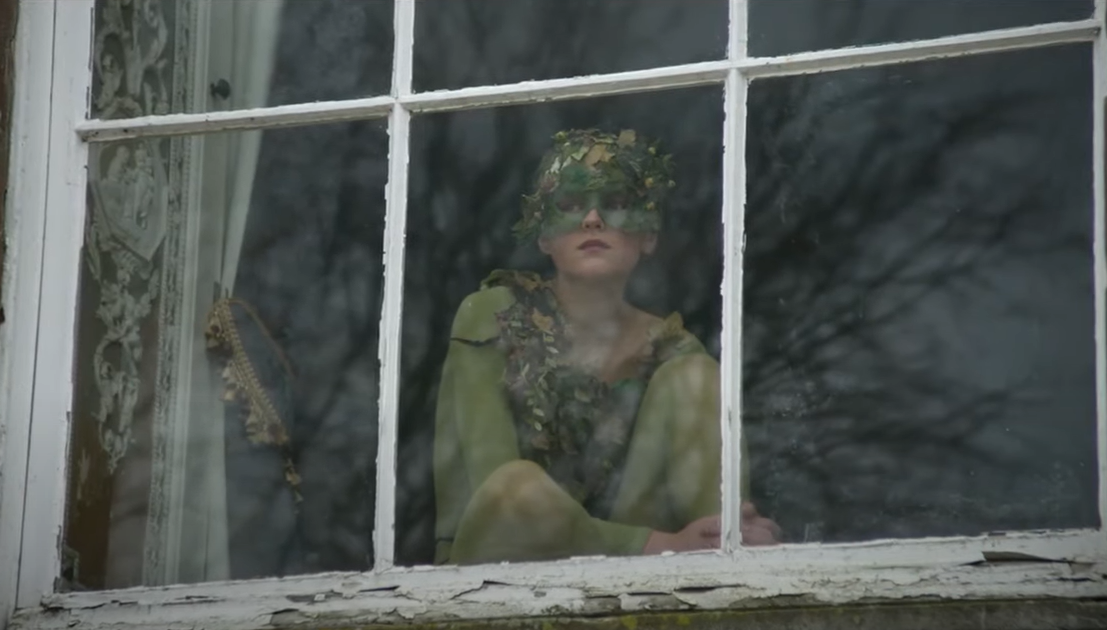 An episode depicting Charles and Diana's first meeting creates a fictional encounter where she's wearing a leaf-covered dance costume and hiding behind a potted plant, like a shy fairy. They later marry in an episode named Fairytale in reference to a speech given by the Archbishop of Canterbury, who officiated the wedding. "Here is the stuff of which fairy tales are made: the Prince and Princess on their wedding day…fairy tales usually end at this point with the simple phrase: 'They lived happily ever after.'" The trailer for this season overlaid this dialogue with ominous music and a ticking clock, foreshadowing the tragedy to come. That wedding did not end in happily ever after, but in divorce and a car crash death that shook the world. In terms of making the royal family look bad, this interview has done more to tarnish their public image than any event since Diana's death.
In a world where there are more Disney princesses than countries in Europe that still have monarchies, it's beneficial for royals to cultivate a fairy-tale image. While traveling through England and visiting castles, I found toy tiaras and princess picture books marketed to young girls in one royal gift shop. Everyone wants to oust politicians but no one wants to overthrow Cinderella.  I was one of thousands of spectators who lined the Long Walk outside Windsor Castle on Prince Harry's wedding day, vying for a glimpse of the new couple. I witnessed firsthand the power a fairy tale wedding had in winning the love of an international audience and count that Saturday as one of the happiest and most memorable of my early adult life. Now the couple claim the wedding was all for show and they secretly eloped in a garden three days prior, though the legality of this witness-less garden wedding has been questioned.
Audiences are simultaneously drawn to the glamour and romance of  the fairy-tale framework built around royal couples while also craving soap operatic drama. Millions of viewers have found themselves sucked into the spectacle of family infighting, emotional strain, and reported racism just as they were drawn, mothlike, to the tempestuousness of Diana's divorce and explosive tragedy of her funeral a generation ago. Even as people gawk at how un-magical the lives of real royals are, we don't cast off that fairy-tale framework. Oprah opened the interview by speaking of the "sense of magic" she felt as a guest at the royal wedding and recalling how "it looked like something out of a fairy tale and appeared to signal a new day for the British monarchy." Rather than talk about what royal reality is, we talk about how it isn't a fairy tale, as if people have a responsibility to be that. After over eighty minutes of digging into the drama and controversy of Meghan and Harry's story, Oprah bookended the discussion by cycling back to fairy tales.
Oprah: "So your story with the prince does have a happy ending."
Meghan: "It does…greater than any fairy tale you've read."
While the couple celebrate finding their voice, the interview is set to negatively impact the rest of the family, including child and teenage members who had no responsibility for the failures of what the couple terms "the Institution." Princesses who leave the Institution, through divorce or personal decision, are free to speak their truth, while the royals who remain behind can only confide their narratives in staff and close friends. While this tell-all interview represents a cathartic release for the Sussexes, it is unlikely to lead to healing with their family. These are real people, not symbols or archetypes, and the happily ever afters for all involved are in jeopardy. 
The Sussexes have stepped into a new role as storytellers, firmly in control of their own narrative and that of their relatives. Speaking about their Netflix deal, Meghan said, "Life is about storytelling, right? About the stories we tell ourselves, stories we're told, what we buy into, and for us to be able to have storytelling through a truthful lens, that hopefully is uplifting, is gonna be great, knowing how many people that that can land with."
For better or worse, this princess has her voice back.